Last Updated on October 16, 2023 by Rick Spiegel
Air Canada offers the Manage Booking feature on the official website or the app and lets the flyers handle their booking on their own. But still, there is always a need for confirmation or guidance. Additionally, there can be many concerns post-flight that can lead to urgent requirements for an Air Canada Contact Number.
More than 30 million passengers preferred Air Canada last year. With the growing number of passengers, the need to handle the queries also rises. To tackle the demand, Air Canada offers various means to connect to the airlines. Even though the traveler is in Canada, the UK, the USA, or any other part of the world, they can reach out to the airline easily through these ways.
How Calling the Air Canada Contact Number Can Help You
Air Canada is constantly breaking the barriers in the airline industry. It brings flexible booking policies, private cabins, and outstanding service to cater to the in-flight needs of travelers. On the other hand, it is also providing exceptional service to resolve the concerns of the flyers. Whether traveler needs pre-flight or post-flight assistance, Air Canada agents are available 24/7. There are numerous reasons that travelers may need to dial the Air Canada Contact Number. Some of them are: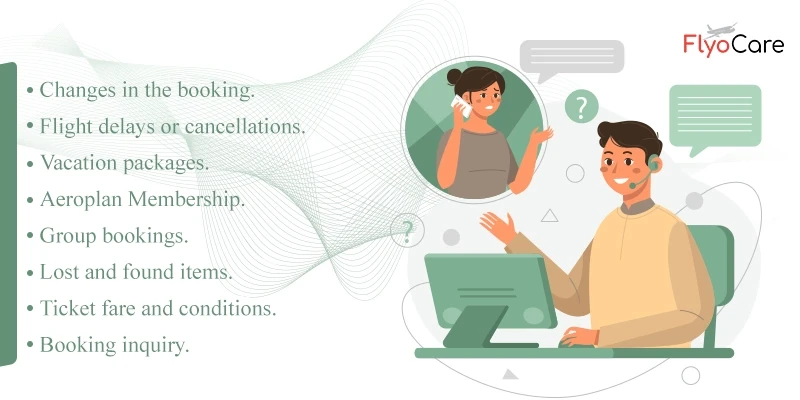 Receipt request
Refund request
Children under 14 years.
Voluntary cancellation.
Gift Card.
Flight pass.
Special meals.
Pet travel needs.
Upgrades and much more.
Air Canada Has A Dedicated Reservations Phone Number For USA, UK, and More
If you are looking to book a flight ticket, then Air Canada offers multiple channels to do so. You can use the app or the official website. Also, you can contact a third party or visit the airport desk and purchase the ticket.
However, there is still one more option, and that is calling the airline. You can call at the following toll-free phone number.
Air Canada Reservation Number: +1 888 247 2262
You can seek help for both new and existing bookings. Air Canada provides 24/7 assistance. The above number is only valid for calls within the US and Canada.
Air Canada also provides assistance to flyers outside the US and Canada. Check out the table below to find out the international Air Canada Contact Numbers.
| | |
| --- | --- |
| Country | Toll-Free Number |
| Argentina | 0 800 345 1540 |
| Australia | 1 800 954 196 |
| United Kingdom | 00 800 669 92222 |
| France | 00 800 669 92222 – 24/24 – 7/7 |
| Brazil | 0 800 591 8842 |
| UAE | 97 142 112 547 |
| Switzerland | 00 800 669 92222 |
| Bahamas | 1 888 247 2262 |
| Bahrain | 1 514 393 3333 |
| Colombia | 01 800 518 9401 |
| Germany | 00 800 66 99 2222 |
| Turkiye | 90 212 465 33 03 |
| Qatar | 97 4444 84 877 |
| Jamaica | 1 800 204 0342 |
| Israel | 97 23 607 2111 |
| Puerto Rico | 1 866 257 0333 |
| Mexico | 800 461 0361 |
| Cuba | 00 5255 9138 0261 |
| Barbados | 1 800 204 0342 |
| Denmark | 00 800 66 99 2222 |
| Jordan | 1 514 393 3333 |
| Thailand | 662 632 6620/21 |
| China | 400 1122 776 |
| Finland | 00 800 669 92222 |
| Spain | 900 943 476 |
| Singapore | 65 6238 8112 |
| Taiwan | 080 909 9101 |
Air Canada Contact Number Details
Netherland, Iceland, New Zealand, Finland, or Belgium passengers can call on 800 66 99 2222.
How To Contact Air Canada's Aeroplan Program Live Person?
The frequent flyer program "Aeroplan" of Air Canada makes the travel experience more affordable. The members receive more benefits and rewards under it. However, often travelers come across challenges in accessing their Aeroplan accounts. No worries as there is a dedicated Aeroplan helpline number. It is available 24/7. So, even though the member is looking to cancel their reward flights or facing the missing point issue, they can dial the Air Canada Phone Number.
Members calling from the US, Canada, and the Caribbean.
Aeroplan Number: 1800 361 5373
Members calling from the United Kingdom.
Aeroplan Helpline Number: 0800 756 3865
All other regions
Air Canada Aeroplan Contact Number: +1 514 395 0300
Additionally, passengers with hearing problems can call 1800 361 5373 via Bell Relay Service (711).
Air Canada Contact Details for Baggage Issues and Flight Changes
There are many pre and post-flight itineraries that altogether make the flight experience delightful. But, there can be situations where your traveling experience may fall out. Such as, in the event of missing baggage or flight cancellation, you may have to speak to the airline.
Here is the contact information for the common services offered by Air Canada.
How To Contact Air Canada Live Person For Missing/Delayed Baggage
After getting off the flight, passengers grab their baggage first. If the traveler is unable to find their baggage after flight arrival, the first thing is to reach out to the nearby Air Canada agent.
Travelers will have to file a WorldTracer Incident Report. For that, they need to provide the following details.
Boarding pass details.
Contact details.
Description of baggage and content.
After the submission of the report, travelers can check the status of their missing baggage on the website of WorldTracer by entering the incident report number.
If the passengers have not submitted an incident report, then they can call +1 888 689 2247 and speak to the Central Baggage Office executive. The helpline number is open from 5:00 to 23:00 Eastern Time for calls within Canada and US.
Also, passengers can send a fax to the Air Canada baggage claim team at +1 800 237 3563 or 514 422 2900.
However, if Air Canada is unable to track the bag within 3 days, flyers have to fill out the Baggage Tracing form through the baggage issue section of the "Let Us Know" form.
How to Contact Air Canada for Flight Cancellations and Changes?
Air Canada allows voluntary flight cancellation and changes to their passengers. Travelers can contact Air Canada on the same number which is available for booking tickets.
For flight changes and cancellations: +1-888-247-2262 (USA and Canada)
We have already mentioned the phone numbers for other regions in the table above. Flyers outside the USA and Canada can call on their respective regional helpline numbers.
How To Speak With Air Canada For Special Assistance?
If you are seeking special assistance on Air Canada flights, then it can be done easily by contacting the airline before the flight departure.
For pet travel, you need to first book a ticket for yourself on the Air Canada flight. After the booking confirmation, you should contact the Air Canada Reservations department to register your pet.
Similarly, for making special meal requests or booking for an unaccompanied minor you have to contact the Air Canada reservations department.
However, in the rare case of bereavement services, passengers can call Air Canada to know the bereavement fares. As per Air Canada, the services are provided to flyers within 10 days of bereavement travel. The airline will ask about:
Dying or deceased family member.
Relationship with the person.
Name and address of hospital and doctor.
Also, the name and address of the funeral home.
After the return from bereavement travel, flyers should submit supporting documents to [email protected].
Speak to the Air Canada Medical Assistance Desk
If you need assistance with your travel, then you should contact the Air Canada Medical Assistance Desk at least 48 hours before departure. Whether you have any queries or seeking assistance, the medical assistance desk will help you out.
Air Canada Medical Assistance Desk Contact Number
USA & Canada toll-free number: +1 800 667 4732
Other regions: +1 514 369 7039
Fax Number
USA & Canada toll-free number: +1 888 334 7717
Other regions: 514 828 0027
You can call from Monday to Friday, 6 AM to 10 PM, Eastern Time, and 6 AM to 8 PM on Saturday & Sunday (ET).
Apart from fax and phone, you can also contact Air Canada over email for assistance.
In the email, ensure that you provide details like booking reference number, passenger name, and date of travel. Also, provide the personal contact number for further communication.
How to File a Complaint with Air Canada Cutsomer Support?
Passengers also have the option of submitting a comment or complaint after their travel on Air Canada flights.
Travelers can start by visiting the Air Canada Customer Relations portal to file their complaints.
After visiting the portal choose the "General Request" option.
In the section below, select the relevant option.
On the next page, fill out the form by providing the passenger details, travel details along with the problem faced at any time of the trip.
Attach the documents (if any).
In the end, submit the complaint.
Air Canada will respond quickly and take the appropriate actions.
How to Contact Air Canada Vacations via Phone Number?
If you are planning for a vacation, then Air Canada provides premium yet affordable packages. It offers many destinations around the globe. Moreover, it has partnered with leading hotels and car rentals to make your trip memorable. When you book your vacation with Air Canada, you also earn bonus Aeroplan points.
You can dial the following Air Canada Contact Number for booking your vacation.
+1 866 529 2079.
Monday to Friday: 8 AM to 9 PM (ET).
Saturday & Sunday: 9 AM to 5 PM (ET).
However, if you need assistance before, during, or after the trip, you can call the toll-free phone number: +1 800 296 3408. You can also use the Air Canada Vacations contact form for online assistance.
If you want to book a group reservation for cruise travel you can email: [email protected]
If you are traveling with a group for meetings and incentive purposes, you can email at [email protected] and plan accordingly.
Air Canada Business Program Contact Information
Air Canada runs a business program only for North American companies under the condition that it has no prior corporate/carrier agreement with Air Canada. The companies can join it without any cost.
The member organizations from Canada and the US can call the toll-free phone number +1 888 335 4189. The executives provide assistance all days of the week from 6 AM to 12 AM, ET. In case of any issue, there is also an option to fill out an online form.
Another option to contact Air Canada for Business is to send an email to [email protected].
Air Canada has tied up with Budget and Avis for car rental services. So, organizations can contact them directly by dialing
Budget: +1 877 516 7275.
Avis: +1 800 222 2847.
Air Canada Has An Automated Chat Assistant As Well
Flyers who are unable to get their answers on the official website can use the online chat option. The virtual assistant is available on the official website of the airline. The instructions on the chat are precisely created so that passengers will get quick outcomes. Passengers can chat with the bot and get real-time pre-defined answers to the queries. Here are the steps travelers need to take.
Go to the official website of Air Canada.
Now, in the top menu, select the "Customer Support" option.
On the next page, scroll down at the bottom to find the chat icon.
Click on the blue color chat icon.
After that, the chat box will pop up.
Chatbot will welcome the traveler and provide multiple options.
Choose the relevant option regarding the query.
Now, follow the on-screen instructions to get the answer.
If Nothing Works, Send A Message To Air Canada On Social Media
Social Media platforms have turned out to be a great source of communication. Apart from posting pictures and sharing memes, you can also use it to reach out to Air Canada. But, there are many fake Air Canada social media accounts out there. Therefore, you need to first ensure that you are reaching out to the official social media handles. Here are the official accounts:
You can DM the travel details and concerns related to it with the agent on social media. The agent will respond and resolve your problem. However, it may take longer to resolve the problems through social media channels. Thus, it is best to contact Air Canada via phone number as the response is real-time.
Frequently Asked Questions
Does Air Canada provide online chat assistance?
Yes, Air Canada provides online chat assistance. Passengers can find the virtual assistant at the bottom of the Contact page on the official website. The chatbot will provide pre-defined options and respond as per the choices.
How Can I contact Air Canada for business travel?
Air Canada for Business program is available for North American companies only. The organizations can call the toll-free number +1 888 335 4189. They can also drop an email at [email protected].
What is the Air Canada flight reservation number?
Passengers from the USA and Canada who are looking to book a ticket on Air Canada can dial the following contact number: +1 888 247 2262.
How to contact Air Canada Vacations after the trip?
Travelers who have completed their trip can contact Air Canada through the following helpline number +1 800 296 3408. They can also fill out the online form at the Air Canada Vacations website for assistance.
What is the international contact number for the Air Canada Aeroplan program?
Air Canada Aeroplan's contact number for the UK is 0800 756 3865. On the other hand, for the other regions, the phone number is +1 514 395 0300.
How can I contact Air Canada for damaged or delayed baggage?
Air Canada has a dedicated helpline number for damaged or delayed baggage. Travelers from Canada and the US can contact the airline at +1 888 689 2247 for their concerns.
What is the contact number of the Air Canada Medical Desk?
If the traveler is calling from America or the USA, they should dial +1 800 667 4732 to get in touch with the medical desk. Whereas the other region travelers can call +1 514 369 7039 for assistance.
Can I connect with Air Canada on social media platforms?
Yes, you can connect with Air Canada on social media platforms. It is a good source of getting deals and updates regarding Air Canada. Moreover, you can DM the airlines to raise your concerns.