Last Updated on August 7, 2023 by Rick Spiegel
Are you wondering 'How do I contact Jet2 by phone'? Jet2.com is the third largest carrier in the UK. It is expanding its fleet continuously and thus attracting more passengers. Moreover, travelers prefer the airlines over many famous airlines due to their award-winning services and low fares. However, with the increase in flyers-base, the airlines also face a lot of queries on a daily basis. Jet2.com makes exemplary efforts to keep passengers satisfied on every level. Thus, it offers many ways for passengers to contact the airline. If you are looking to contact Jet2 by phone, then this blog is surely for you. We will also discuss other means to speak to someone at Jet2.com.
Flyers Can Contact Jet2 By Phone for New and Existing Bookings
Jet2.com request passengers to call on the numbers provided on the official website of the airline. It also asks passengers to not share any personal details. Refer to the following table to contact Jet2 Airlines by phone for new and existing bookings.
| | |
| --- | --- |
| Country | Phone Number |
| United Kingdom | 0333 300 0042 |
| Spain | +34 900 861 494 |
| France | 0821 230 203 |
| Italy | 0199 404 023 |
| Austria | 0800 9097 20 |
| Germany | 01803 511 111 |
| Other countries | +44 (0) 203 059 8336 |
Jet2 Contact Details For Each Location
Jet2holidays Can Be Reached Out Through An SMS
Jet2holidays has started its new SMS service to connect with its passengers. The airline sends messages from the number +447445874549. The airline will text you regarding any flight updates, upgrades, and refunds. Thus, it gives comfort to the passenger of receiving all the updates directly from the airline. Passengers can respond to the text at their convenience.
Can't Connect With Jet2 By Phone? Try These Alternatives
Due to lengthy wait times and other reasons, you might not be able to contact Jet2 by phone call. In such a scenario, you can try any of the following contact channels offered by the airline.
Contact Jet2 By WhatsApp
Whatsapp messaging is another method to contact Jet2 by phone. Jet2.com has a separate Whatsapp team for assistance to its passengers. Travelers can click on the following link: jet2.com/whatsapp, and find the QR code. When they scan the code, the Jet2 WhatsApp chat will open.
After getting in touch with the representative, they will ask for the details to verify the identity of the passenger. Since Whatsapp messaging is encrypted travelers can share the details securely over the chat.
Passengers can resolve many queries like baggage-related, refund processing, flight status, and much more through Whatsapp messaging.
Social Media Can Also Be Used To Contact Jet2 For Simple Queries
Social media platforms are quite common ways to raise concerns. Jet2.com and Jet2holidays have a presence on many social platforms.
You can complain or give feedback to Jet2.com Airlines via these channels. However, contacting Jet2 by phone is a more reliable method. The following channels are more effective in getting updates on flight schedules, deals, or vouchers.
How Do I Speak to Someone at Jet2 for Group Bookings?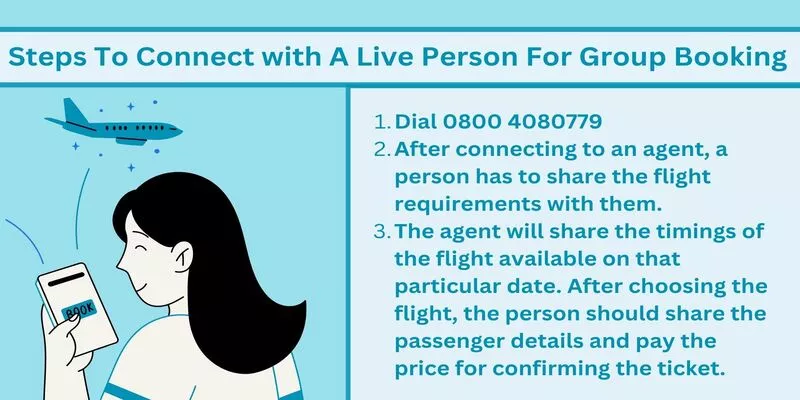 If you are a group of 10 or more members then it is best to choose Jet2 for group reservations. You can either make an online inquiry. Moreover, if you are dwelling on how do I contact Jet2 by phone for group tickets, then you can dial 0800 4080779 and speak to someone at Jet2 for group bookings.
After connecting to an agent, a person has to share the flight requirements with them. The person should share the travel date, arrival and departure city, along with the number of adults, children, and infants in the group reservation.
The agent will share the timings of the flight available on that particular date. After choosing the flight, the person should share the passenger details and pay the price for confirming the ticket.
Connecting to Jet2 for Special Assistance By Phone
Passengers can also seek special assistance at Jet2 Airlines. The airlines offer assistance to passengers having mobility problems, medical conditions, assistance dogs, medical equipment, or any other. They can dial 0800 408 5591 and reach out to the Jet2 special assistance team for requesting assistance.
Speaking to Jet2 for Claiming Compensation
Generally, Jet2.com book you on an alternate flight in case of any flight disruptions. However, it is a passenger's choice to opt for rebooking or compensation. If you are looking for compensation, then filling out the form is the most suitable method to speak to Jet2.com.
You need to provide the following details.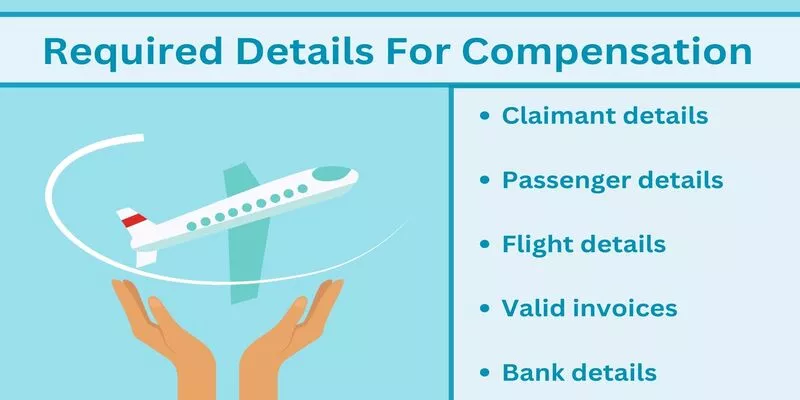 Claimant details.
Passenger details.
Flight details.
Valid invoices.
Bank details.
Is Your Baggage Damaged? Contact Jet2 By Phone For Baggage Issues
If your baggage is lost or damaged, then they have to fill out the Property Irregularity Report (PIR) before leaving the airport. The airline will update you over text messages regarding your baggage. Also, you can call +44 (0) 113 231 4055, and choose the airport where you have filed for missing baggage.
You can also e-mail the following addresses to get an update on the baggage.
However, if you are outside the UK, then you can mail at [email protected].
Frequently Asked Questions
Does Jet2.com provide an online chat facility?
Unlike other airlines, Jet2.com does not provide a chat facility on its website or the app. Passengers can call the airline or follow the guidelines to learn about the process and policies of Jet2holidays and Jet2.com.
How much time does Jet2.com take to connect with the passenger?
Jet2.com is available around the clock to serve passengers and resolve their queries. The waiting time is usually 4 to 6 minutes over a phone call on normal days. In rush hours, Jet2.com may take up to 15 minutes to get a live person on a call. Whereas, the airline responds to mail within 24 hours.
Can I connect with Jet2.com over Whatsapp?
Yes, you can get in touch with Jet2.com over Whatsapp also. You can visit the official website and navigate to the contact page. After that, from the bottom of the screen, you can choose the Whatsapp chat option.
What are the ways to contact Jet2.com?
There are various methods to connect to Jet2.com airlines. You can use the Jet2.com Manage Booking feature or use various specific phone numbers to connect with the airline.
What is the phone number to request special assistance on Jet2.com?
Travelers looking for special assistance on Jet2 flights can call 0800 408 559. They can ask for help with medical equipment, mobility issues, and much more.
How to make a group booking on Jet2.com Airlines?
Passengers can make group reservations via the official website or by calling the airline. Travelers have to share the travel details, passenger, and contact details to complete the booking.
How do I make a complaint to Jet2holidays?
If you are willing to make a complaint to Jet2holidays, then you can contact them by calling 0044 113 387 9501. Jet2.com provide 24/7 assistance to its passengers.
How long does it take for Jet2 to respond to complaints?
Jet2.com is a passenger-centric airline. It follows the ABTA guidelines. The airline may take up to 28 days to respond to the complaints.
What is the phone number to contact Jet2.com in the UK?
Passengers can dial 0333 300 0042 if they are calling from the UK. The Jet2.com team is available from 8:30 AM – 8:30 PM from Monday to Friday and 8:30 AM -7:30 PM on Saturday and Sunday.
Does Jet2holidays offer SMS services?
Yes, Jet2holidays has recently launched SMS services. It sends messages through the following number +447445874549. It helps travelers to get direct updates to their phones regarding flights and refunds.