Last Updated on October 16, 2023 by Rick Spiegel
Everybody wants to get a refund of their money after canceling a flight. But that doesn't work out every time as expected. Fully refundable tickets and flexible tickets are the two features offered by united airlines that can solve this problem.
As the name suggests these tickets are fully refundable and you can request a full refund of the canceled flight anytime you want. In this post, we'll explain how to book a fully refundable united ticket and what is the policy of united airlines refund policy.
How to Book United Airlines Refundable Tickets?
Booking United Airlines fully refundable tickets are very easy, just follow the steps below to book your ticket.
Fill in the details on this page.
In the type of fare, the section selects fully refundable.
Then click on find flight.
Now select the fully refundable cabin and now continue to book your flight.
After booking your fully refundable flight, you don't need to worry about any refund issues.
Book United Flexible Flight for a Fully Refundable Ticket
United airlines also provide flexible booking for their customers. In flexible reservations, there are no charges for economy and premium cabin cancellation within the USA. Also, you don't need to pay any charges for international flight changes if the flight originates from the USA.
To make United Airlines flexible booking follow the steps below.
Fill out the plan for your trip form and click on search.
Select the fully refundable ticket.
Then fill out the traveler information.
Complete the payment.
Now you've booked a united Airlines flexible flight and you are also eligible for fully refundable tickets.
How to Cancel United Airlines Fully Refundable Tickets
If you want to cancel your United booking you can do that from a United website. If you've booked a fully refundable ticket, then you'll get the refund of the ticket. To cancel your ticket follow the steps below.
Go to united.com.
Click on "My trip".
Now click Manage the trip
Now click cancel the flight.
Follow the instructions to complete the cancellation.
Now your booking is canceled, you can follow the steps below to request a refund for your fully refundable United tickets.
How to Request For Refund for United Refundable Tickets
Now let's discuss how you can request a refund of fully refundable tickets from United Airlines. Simply follow the steps below to request a refund.
Now click on the request a refund.
Sign in to your account.
Now enter flight and personal details.
Click on submit.
Now once the process is started, you'll get the refund on the original payment method.
How to check the united refund request status
Have you not received the refund? Don't worry, you can always track the United refund request status. To track your refund status follow the steps below.
Click on check refund status.
Now click on the check status tab.
Enter the last name and tracking number.
Now click on check status.
Now you'll get the status of your refund request from United Airlines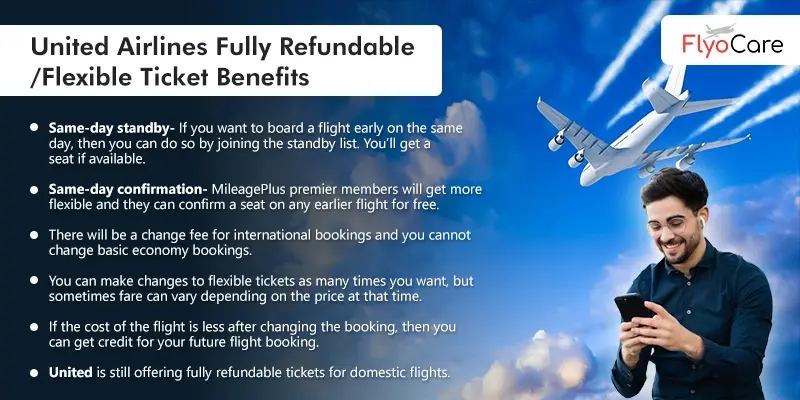 Other Important Things You Need to Know
Below we've shared some other information about United's fully refundable tickets and flexible booking.
Locations: Continental US, Hawaii, the Caribbean, Alaska, and Mexico. You Can fly from the USA to these destinations and take advantage of a fully refundable ticket or flexible booking.
Type of tickets: Economy, United First Class, United Premium Plus, United Business, Economy Plus
United Airlines Fully Refundable Tickets Policy
Below we've explained the different policies and features of United fully refundable or flexible booking.
United will not charge any cancellation fee.
The ticket price will be higher compared to other flights but United fully refundable tickets provide the full refund of the ticket during uncertain cancellation.
The refund is initiated within 7 days.
The bank can take 1-2 days to show the credited amount in your account.
24-hour free cancellation is available for all customers.
FAQs
What does a fully refundable ticket on United mean?
As the name suggests you'll get a full refund of your canceled united flight.
What is the difference between United Economy and Economy refundable?
In united economy refundable, you'll get a full refund of the amount. But this feature is not available in united economy classes.
Is United Airlines' premium economy fully refundable?
No united premium economy is not fully refundable. But you may get a refund of the united premium economy booking in some cases.
More helpful guides:
What is united airlines unaccompanied minor policy and fees
How to contact delta – customer service on call, chat and email